ROSS DRESS FOR LESS AND ULTA BEAUTY JOIN PUBLIX, PETSMART
AND DICK'S SPORTING GOODS AT NEW CULLMAN SHOPPING CENTER EXPANSION
The U.S. Department of Labor is also on track to re-open 8,000 square foot Career Center
Cullman, AL – Merchants Retail Partners (MRP), a Birmingham, Alabama based real estate investment firm, has announced Ross Dress For Less and Ulta Beauty will join the growing list of new-to-the-area retailers at the renovated and expanded Cullman Shopping Center. MRP would also like to announce The U.S. Department of Labor Career Center will soon re-join the Center in a renovated 8,000 sq. ft. outparcel building. Combined, the new stores will occupy more than 40,000 square feet of the 325,000 square foot shopping center.
​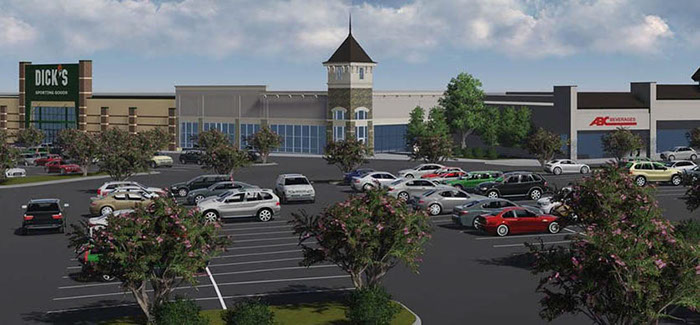 The announcement of the 22,000 sq. ft. Ross and 10,000 Ulta comes amidst a flurry of new retail activity in Cullman and for the Cullman Shopping Center. "Retailers and restaurants have targeted Cullman for expansion acknowledging that Cullman has quickly reestablished itself as a growing and thriving community," said MRP Development Partner Tim Gully. "With a new Ross, Ulta, Publix, PetsSmart, and a new-prototype Dick's Sporting Goods joining Belk and Books-A-Million, we have exceeded our lease-up timeline and plan to announce other tenants joining the Cullman Shopping Center in the near future."
When MRP looked at Cullman for an expansion of their retail footprint, they recognized that the 50-year-old Cullman Shopping Center still held the prime retail location in the downtown market and, rather than build, that renovating and expanding the existing center was the best option for MRP and the Cullman community. "There are so many opportunities across the country poised for redevelopment rather than abandoning and building new," says Bill Leitner, Principal of Merchants Retail Partners. "City leaders, like in Cullman, are supportive and are willing to collaborate with developers to see their vision of rebuilding a city's downtown come to fruition." MRP is growing rapidly and has identified several similar opportunities across the Southeast.
MRP expects Publix, Dicks Sporting Goods and Ulta Beauty to open in late 2015, Ross Dress For Less and PetsSmart to open in early 2016. The Career Center will open by early summer 2015.
About Merchants Retail Partners
Merchants Retail Partners (MRP) is a vertically integrated investment firm specializing in commercial real estate development and acquisitions throughout the Southeast. The company is owner/operator of retail/mixed-use real estate and provides best-in-class underwriting/market analysis, acquisition, development, repositioning, construction management, leasing, property management, financial reporting, as well as complex debt and equity restructuring capabilities. MRP combines the size, strength and institutional closing power of its sponsor company, with the responsiveness of a private firm. With more than 145 years of collective experience, MRP's leadership team has developed and managed more than $2B of retail and mixed-use property across the Southeast. MRP is headquartered in Birmingham, AL in the Protective Life Center.
About Ross Stores
Ross Stores, Inc. is an S&P 500, Fortune 500 and Nasdaq 100 (ROST) company headquartered in Dublin, California, with fiscal 2013 revenues of $10.2 billion.  The Company operates Ross Dress for Less® ("Ross"), the largest off-price apparel and home fashion chain in the United States with 1,214 locations in 33 states, the District of Columbia and Guam as of January 28, 2015. Ross offers first-quality, in-season, name brand and designer apparel, accessories, footwear and home fashions for the entire family at everyday savings of 20% to 60% off department and specialty store regular prices. The Company also operates 152 dd's DISCOUNTS® in 15 states as of January 28, 2015 that feature a more moderately-priced assortment of first-quality, in-season, name brand apparel, accessories, footwear and home fashions for the entire family at everyday savings of 20% to 70% off moderate department and discount store regular prices. Additional information is available at www.rossstores.com.
About ULTA Beauty
Ulta Beauty is the largest beauty retailer that provides one-stop shopping for prestige, mass and salon products, and salon services in the United States. Ulta Beauty provides affordable indulgences to its customers by combining unmatched product breadth, value and convenience with the distinctive environment and experience of a specialty retailer. Ulta Beauty offers a unique combination of over 20,000 prestige and mass beauty products across the categories of cosmetics, fragrance, haircare, skincare, bath and body products and salon styling tools, as well as salon haircare products. Ulta Beauty also offers a full-service salon in all of its stores. As of November 1, 2014, Ulta operates 765 retail stores across 47 states and also distributes its products through the Company's website: www.ulta.com.