MERCHANTS RETAIL PARTNERS' BILL LEITNER FEATURED AT UNIVERSITY OF FLORIDA'S PRESTIGIOUS BERGSTROM CONFERENCE
BIRMINGHAM, AL – February 24, 2017 – Bill Leitner, the Managing Principal, of Merchants Retail Partners (MRP), a Birmingham, Alabama based real estate investment firm, was recently a featured panelist at the nationally-renown University of Florida Bergstrom Conference to discuss "The Changing Retail Landscape". Other industry leaders including the National Director for Colliers International, Anjee Solanki, and industry veteran, Ron Wheeler, CEO of The Sembler Company, joined Bill on the Leadership Panel.
"Retail is facing headwinds with brand relevancy and customer service being the two prerequisites for success in the marketplace. The customer requires an experience within the store and at the property-level. So, merchandise mix and branding have never been more important. We never anticipated the speed of these systemic changes with retailers. Those who master the components of merchandise mix, customer convenience, and brand relevancy will outrun most participants," said Bill Leitner.


"The UF Bergstrom Conference brings together the leading industry professionals from all facets of the commercial real estate sector. We were grateful to be included in this world-class organization's conference," said Bill Leitner, Managing Principal at Merchants Retail Partners LLC.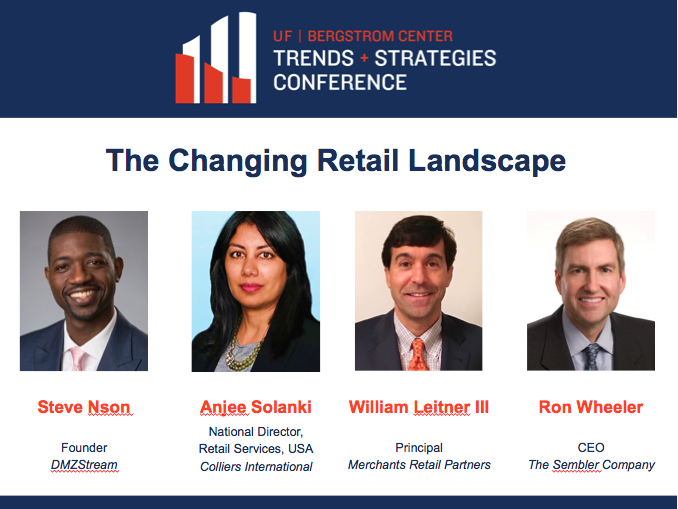 About Merchants Retail Partners
Merchants Retail Partners (MRP) is a full-service development and acquisition investment platform owned by management and Protective Life Insurance Corporation, a national insurance provider that has a $70.5 billion balance sheet.  MRP's vertically integrated platform develops green-field projects and acquires underperforming assets with near-term growth potential. The MRP management team has more than 100 years of collective retail experience and has acquired and/or developed over 20 million square feet of retail assets worth approximately $4 billion in the Southeast and Mid-Atlantic states.
Contacts
For Merchants Retail Partners
Amy Garrett
agarrett@merchantsretail.com
205-268-7521